The Scientific Method - the method that has gained us everything that (even up to 15 years ago) seemed utterly impossible. A dream. A phantasm.
Man? Fly? Preposterous! Only Angels and birds can fly.
Live 60 years? Insanity! 80 years? MADNESS!
Cure plagues? Only God and His Chosen can cure plagues.
Space? The Moon? Get those ideas out of your head.
I could go on and on for hours about the things that Science has brought us through it's processes and the hours of labor of it's practitioners, studying for years to further both our understanding of the universe and progressing the state of life for all of us, collectively. As a whole.
Since the dawn of man, we have dreamed these things - these impossible, unimaginable things - and have ever since been driven to better ourselves. But, only recently we have been able to capture these fantastic dreams. The things that were once acts of God can now be reproduced in a lab. We have studied nature, and found that it is even more wondrous and complex than we could have ever imagined...
Science has gained us more progress than we could have ever imagined. Hell, this conversation is a marvel of the scientific process!
The Scientific Process has definite definitions. An approach to how we should define things. It is very strict, and universal for all things. Among these, the definition of Theory.
A Theory is a conclusion drawn based upon the collective evidence. Evidence is
all
collective facts and data.
No Creationist has ever presented a scientific explanation that fits all of the facts, data that we have. Just, as my opponent would happily call it, denial of them all. They criticize the Scientific Method for not including their "Theories" - but, in truth, it is because it is excluded like every other idea that does not meet the criteria. The same criteria that every other theory must meet.
They present nothing but uneducated critique, and either intentionally or unintentionally spread misinformation, lie, and complain when they are not recognized for all of their effort into trying to punch a hole in the scientific method that has built the very house which they lay their heads at night, powered by nuclear energy, who can be assured of clean water, good food, and all the other things that are results of the very same criteria that will not allow their absurd and irrational ideas into the Scientific Process.
And, moreover, this discussion has revealed the truth of the matter:
As long as there are people devoted to the betterment of mankind, it really doesn't matter. At the end of the day, the world roles on. Your opinions on the matter will not halt the actual process of Science. It will not stop the development of technology, or the study of the Universe. Because, as I said before, Science doesn't require your uneducated opinions to forge forth. It does not require your beliefs for you to benefit from it.
--------------------------------
I shall close with my favorite XKCD comic strip: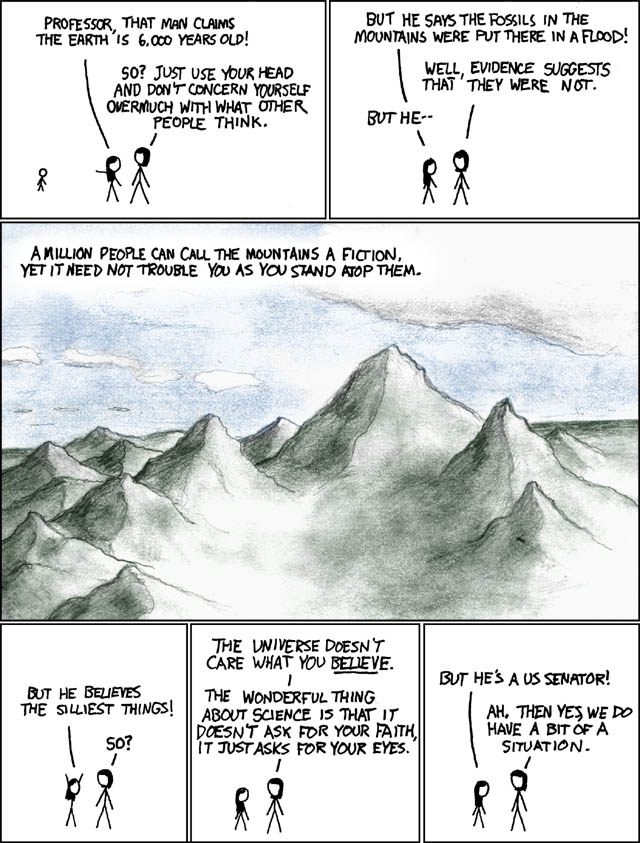 Some would insinuate that being drunk at 9 in the morning to be signs of serious issues.
Me? I'd insinuate it as signs of no plans and a refrigerator full of Whiskey and Guinness.