So late to seeing this debate, but I enjoyed seeing Hack pin the guy in the first couple of submissions, and Bernhard unable to do owt but trot out more dismissals.
I presume Berhard's a creationist because he keeps asserting bullshit as fact, and given the number of accusations he's made about palaeoanthropologists, I think he deserves a good figurative ass-kicking, regardless of him already having done a runner. Any which way, more Creationist mendacity is exposed. Grist for the mill.
Why is Lucy not a transistional:
A) they have found 40 of 207 bones ( roughly) many bones being broken. This is considered a most "complete" fossil. Nevermiding the fact the 40 bones that have been found are in pieces. So to assert it has been " pieced together" is false because of evolutionary presuppositions gaps have been placed to give longer legs, or bones have actually been jammed tiger to give shorter arms. Remember it's not like they have one good arm and make the other symetrical... That's not there.. Hence a great place to insert evolution of the gaps.
B) the pelvis was mechanically worked on to claim Lucy walked upright, bipedalism. There is a nice little video on it courtesy of national geographic that shows Dr. Love joy ( I think that was his name) sawing on bones to make it work. That would be called tampering with evidence but in this scenario I'll just let it pass and say the bones mechanically evolved via a drill/sawblade not via genetic drift, et al.
C) with these 40 bones or so 20%... The complete Lucy stands.. I do not know of another way to frame it but Lucy is simply 80% wishful thinking.
Firstly, of course Lucy is transitional, as was explained by Hack. That individual was transitional between her parents and her potential offspring, even if she had none. Australopithecus afarensis was transitional because it had a parent species, even if it had no daughter species. The only counter Bernhard mustered was the typical Creationist appeal to a magical barrier.
All the rest is just bullshit. Outright lies stated as fact. None of the above happened or is true, but Creationists do like heaping shit around hoping it will tarnish reputable science.
AL 288-1, commonly known as Lucy, is just one out of many fossils of afarensis. I believe that we're well over 500 separate, unique specimens at this point. AL 288-1 is important both because of the completeness of the skeleton, and because of its age, but it's not the only example of A afarensis, as Bernhard clearly wants others to believe, or ignorantly believes himself.
There are, of course, hundreds of other specimen with varying degrees of completeness, so even if Bernhard's bullshit claim were true regarding Lucy and being unable to impose symmetry, then the copious numbers of other fossils would help fill the partially missing skeletal morphology.
Of course, as is expected from Creationists, Bernhard lied about it.
A quick review of the complete specimen will expose that lie to even a child: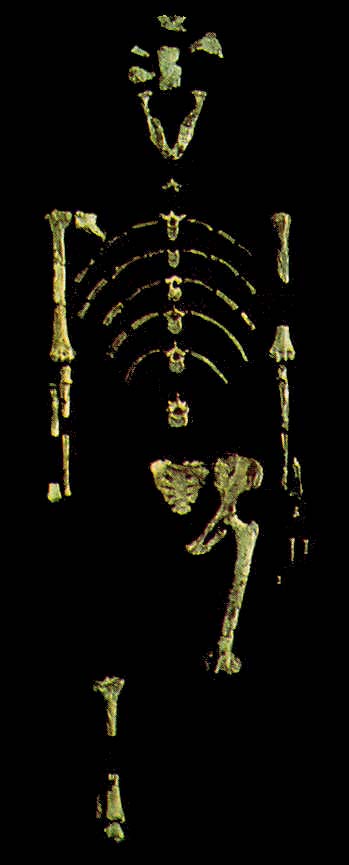 1) most bones weren't found 'in pieces', but of those that were, they were lying in situ where they would have been in death - broken, separated, but mere milimetres out of place. Is the argument that professionally trained anatomists aren't able to perform a task about matching shapes even though we expect very young children to be able to do it?
2) Longer legs, shorter, bullshit. All bullshit. One doesn't simply 'make' a leg longer. Instead, you have things like the femur and tibia which necessitate a certain length. The notion that some nefarious attempt was made which could be honestly described as 'jamming them together' is a febrile delusion from someone who clearly doesn't know his own arse from his elbow. No one ever 'jammed' anything together, that's completely moronic - these fossilized bones are invaluable, and no expert is going to start bashing them against each other.
3) It is indeed 'not like they have one good arm and make the other symmetrical..' because, as anyone can see, the other arm is already there.
4) Neither the pelvis nor any other component of AL 288-1, or in fact of any invaluable fossil has been 'mechanically worked' - that's a statement only the mentally insane would declare. The evidence for this vicious accusation? Non-existent. This is simply libel, and it's very typical of creationists to make such vicious accusations, but not one of them ever has the gumption to put their money where their rectum is.
5) Dr Lovejoy sawing on bones? BONES? BONES? He could have been sawing on fish for all we care, and then told us the price. Bones are not fossils, chap. Rather a telling exposure of how ignorant Bernhard is about the topic while pretending to have all this expert knowledge.
6) Another incident of an accusation of falsifying data, another claim that a nefarious intent was at play attempting to turn an invaluable fossil into some preconceived agenda (i.e. what Creationists do all the time), while failing abysmally to offer any substantiation other than his assurance. Someone who keeps lying can never be a legitimate authority.
7) Lucy being '80% wishful thinking' clearly explains his own screed. None of his claims are true, none of the accusations he made about people's conduct happened, and the evidence is right there now to see in Ethiopia where the fossils are permanently housed and no fucking drills, saws, pick marks or any other signs of tampering are visible. In reality, in terms of percentage of whole skeleton, then it's about 45% complete. In terms of the fact that we can logically use symmetry to mirror one side of the specimen to the other means the percentage of completeness in terms of type is around 70%. That logic, incidentally, being bilateral symmetry and as 99% of all animal species ever to have existed in the planet's history exhibited bilateral symmetry, I wonder why Bernhard thinks this is so complicated?
Why do creationists lie? Is it because they are thick as shit and don't understand the primacy of evidence, or is there something intrinsic to the Creationist version of Christianity that results in them losing all moral compasses?