leroy wrote:

he_who_is_nobody wrote:This is the only new claim dandan/leroy presented. All the rest have been debunked multiple times before on this forum.




2 things

1 does this statement represents your view?


while your position is that evolution can account for all (or nearly all) the diversity that we observe, including the origin of complex organs and systems (wings, eyes, reproductive systems, brains etc.)


or do you agree with Sparhafoc and I, and believe that that view is wrong?
I agree with that statement. What else is there? Magick?
leroy wrote:2 I provided mathematical evidence that strongly suggested that evolution can only account for 0.02% of the difference between chimps and humans, and this assuming a very convenient and unrealistic scenario, if you think there is something wrong with the math, please provide the correct maths, instead of copy and pasting and irrelevant article from Wikipedia.
First, I did not provide a Wikipedia article, thank you for once again demonstrated that you are ignoring the sources I provide. Second:
Talk.Origins - Claim CB121 wrote:Haldane's "cost of natural selection" stemmed from an invalid simplifying assumption in his calculations.

He divided by a fitness constant in a way that invalidated his assumption of constant population size, and his cost of selection is an artifact of the changed population size

. He also assumed that two mutations would take twice as long to reach fixation as one, but because of sexual recombination, the two can be selected simultaneously and both reach fixation sooner.

With corrected calculations, the cost disappears (Wallace 1991; Williams n.d.).



[emphasis added]
To sum up, what you provided was
garbage in, garbage out
. Haldane's dilemma has been debunked for decades. Repeating debunked arguments only exposes your lack of research in this field.
leroy wrote:

Barrier number 2




Rumraket made a mistake that nullifies his reply


Most(most, not all) mutations that happen in the non-junk portions of the genome are deleterious. True. But they are removed by purifying selection.



most mutations that happen in the non junk portions are deleterious, but slightly deleterious, the effect in survival is so small that natural selection wont remove them.

after a significant amount of time (say 1,000,000 years) organisms would accumulate so many slightly deleterious mutations, that at one point the accumulation of all of them would inevitable cause extinction.

you can find more details in the various sources I have provided since 2014
Definitions and citations needed. First you claim that Rumraket is wrong because "slightly deleterious" mutations will make it through and those will eventually add up to something. Thus, you need to define "slightly deleterious", than you need to provide sources that they actually do add up and cause extinction.
leroy wrote:

Irreducible complexity...




it is a fact that at least some steps require multiple independent genetic changes in order for them to have a benefit that would be selected by natural selection, I even provided an example.


why don't you refute my actual argument instead of a straw man version of it.?
Rumraket on June 08, 2014 wrote:The issue is not that the eye is not irreducibly complex, it certainly is (you can pick out parts that will destroy the function of the extant eye, that means it is irreducibly complex).



The issue is when you think this prevents it's gradual evolution.

This is what IDcreationists fail to get time and time again. The biologist Hermann Joseph Muller predicted that the evolutionary process would inevitably produce such irreducibly complex structures, and actually coined the phrase

Interlocking Complexity

, all the way back in the 1930's, to describe the same phenomenon. Basically Muller suggested that such structures would evolve in what is called the Mullerian two-step, which in a rather simple formulation is:

1. Add a component.
2. Make it necessary.

[emphasis added]
Work on your reading comprehension.
leroy wrote:

leroy wrote:Barrier 4


Convergent evolution at a genetic level

...




once again, you are focusing in secondary and irrelevant details, the fact is that dolphins and bats suffered from the same genetic changes multiple independent times, so ether these genetic changes where random mutations or caused by some other non random mechanism, given that the first is statistically very unlikely I am suggesting that the second is more probably true.
Do you also believe that bats and pterosaurs "suffered" from the same genetic changes multiple independent times when it comes to their wings? That does seem to be what you are implying.
leroy wrote:sure as you have pointed out multiple times and as I already agreed multiple times if you look at the whole gene (or protein) you do have consistent trees, but that doesn't nullifies the fact that dolphins and bats suffered from the same genetic changes multiple independent times,
Inferno on Sun Jul 27, 2014 wrote:How is that a "minor detail"?

I explicitly showed that you're wrong about "exact same genes", which was the crux of your argument.

I was able to show that the similarities occur in the amino acid sequences, something that's perfectly understandable.

I think I even explained at some point that "identical amino acids" in no way mean "identical nucleotide sequences".

Do you even understand the difference between the two?

Codons code for amino acids, meaning three nucleotides in a row.

Take the amino acid Leucine: TTA, TTG, CTT, CTA, CTG, CTC all code for it. If we have the amino acid sequence LLLLLL, we may have any of the six codons coding for them.

Suppose that bats and dolphins both have the same amino acid sequence "LLLLLL".

The bats may have the codon sequence CTCCTCCTCCTCCTCCTC, while dolphins may have the sequence TTATTATTATTATTATTA. Both code for the same amino acid sequence (LLLLLL), but they're not identical, would you agree?

It would therefore be idiotic to claim that the two could only arise by the exact same mutations, would you agree?

[Emphasis added]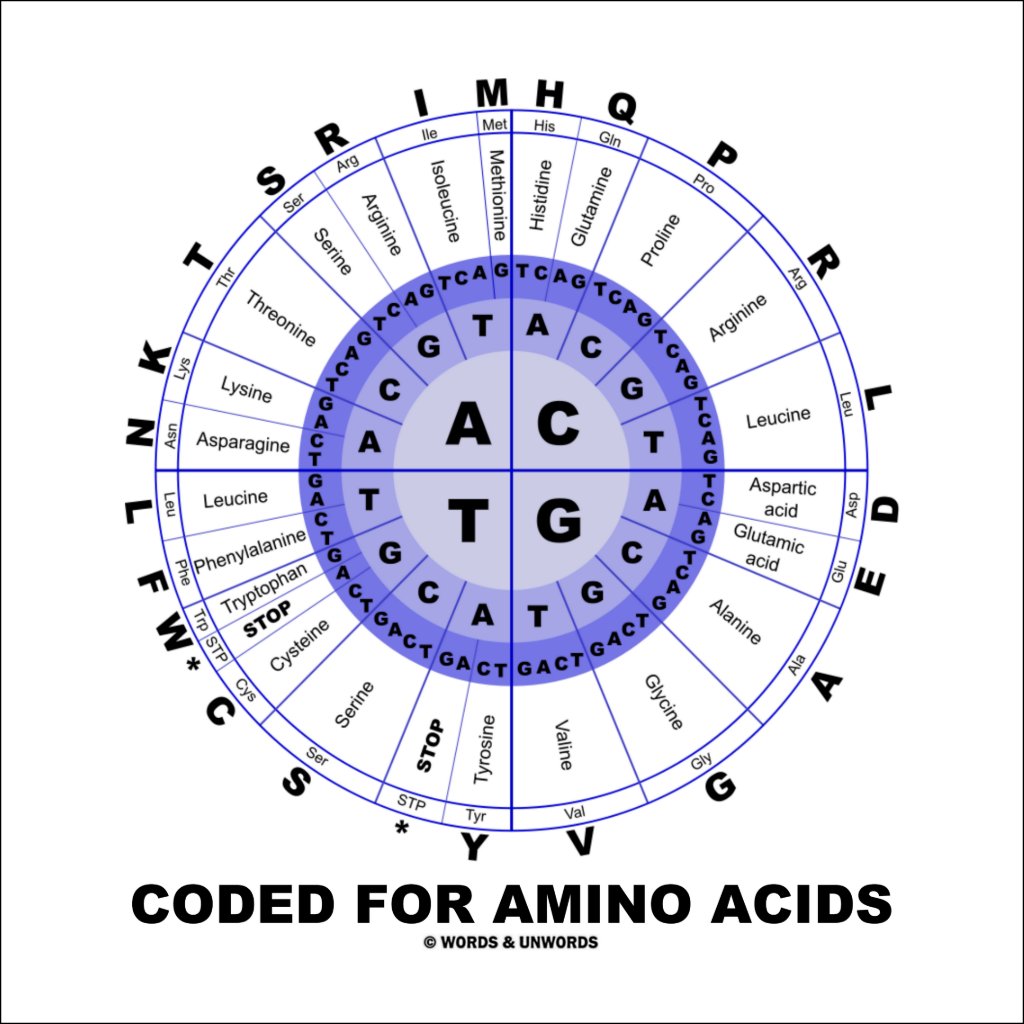 Hopefully that image and the emphasis in the above quote will allow this very simple concept to sink in.