joshua040103 wrote:Here's the problem, you're employing YOUR reasoning to evaluate "objective verification", which is to say that you are assuming the validity of your reasoning as the means to justify your reasoning. I'm all about verification, but on your position, no verification is verifiable, especially objectively. My argument still stands.
Your argument still fails. The problem is that I'm not relying on my own reasoning, because I have the advantage of objective verification. I can inquire of others to check my math and counter my conclusions and explain any corrections in a manner I can understand and accept. And if it turns out that I am insane, that method will also get me the help that I need. You have none of these advantages as you insist on your own subjective interpretations and reject any and all evidence that you're wrong.
You've just demonstrated that again.
Are you saying that your reasoning is not the standard you measure your reasoning against? That's contrary to your professed epistemology.
Wrong. First I was talking your failed analogy with the measuring tape. Then as I said, we BOTH use our reasoning to justify our reasoning: except that I don't rely only on that, as I have a means to check, test, and correct my conclusions, and you don't.
The Christian worldview is virtuous in its circularity because not only is it self attesting and self proving, but the rejection of it reduces one to absurdity, which we'll see in this discussion.
You've just demonstrated again how your position is based on question-begging speculation, while mine is not.
Your position of employing your reasoning to justify your reasoning and your senses to justify your senses is no more rational then stating that the sky is blue because the sky is blue. If you can't escape the vicious circle which you appeal to in order to justify your reasoning, you can't know with epistemic certainty that any of your claims about reality are valid.
Since you didn't understand any of my philosophical references, and keep repeating the same errors as if they hadn't just been corrected, then let me change tack. Do you accept that reality is real? Or do you imagine that what we perceive as reality is an illusion? And in either case, how do you determine that?
No sir, it is not a fallacy but a demonstrable fact. You claim--without any justification whatsoever--that you're not using your reasoning to justify your reasoning only because you have imagined an arbitrary external source, one which not only can't possibly exist, but which clearly does not provide for your reasoning either, as we will soon see. Instead you use your reasoning to interpret a haphazard compilation of man-made mythology, while pretending that you "presuppose" what you hadn't even read yet. and you clearly don't understand even what you have read.

The majority of your last comment here is nothing more than prejudicial conjecture founded by your philosophical bias towards atheistic dogma.
Ignoring for the moment that all the biases and conjecture are on your side alone, and that there is "atheistic dogma", how do you justify this false allegation in your own mind?
My epistemology is revelational, so my justification for my capacity to reason rationally is grounded in that revelation. You are free to disagree with that of course, but your only basis for doing so stems from reasoning you can't know is valid, and nor can you assert such without begging the question.
So what you just admitted is that the basis of your epistemology is subjective impressions about empty assertions you can't demonstrate or verify to any degree at all by any means whatsoever. Thus your "epistemology" is based on what you do NOT know and can't honestly claim to know.
You're talking about yourself now; not me. Your position is based entirely on question-begging conjecture, (and we can prove that) where mine does not even permit that.

Except for the fact that the basis for your reasoning is logically invalid.
By your own admission, your own basis for reasoning is invalid, and you're forgetting that mine must be factually backed and checked by critical analysis in peer review, where you simply reject all of that.
My position seeks to minimize or eliminate bias wherever and however possible.

So you're bias towards eliminating bias? Or you're bias against bias? Either way, you're bias. Neutrality doesn't exist and to assert that it does is to take a position.
I'm not looking for neutrality; I care about truth. So my information must be factually correct and logically supported, where yours doesn't require either one. Because you DON'T care about the truth. You don't even want to know what the truth is. You're determined to pretend that it's something else.
Just to help you out here, a bias is a prejudice that is typically considered to be unfair. Wanting to eliminate unfair prejudice is not being prejudiced. Just like being rational is not irrational, and objecting to the dishonesty of religious faith is not a religious faith in itself. You like repeating the fallacies of projection and false equivalence like all other apologists do. That's because your position is based on logical fallacies. It is not and does not like the truth.
Also, since theistic apologists demonstrate general incompetence in all matters, if you want to quote me, type "quote" in brackets before the sentence you want to quote, and type "/quote" in brackets after it.
Also let me help you with this too.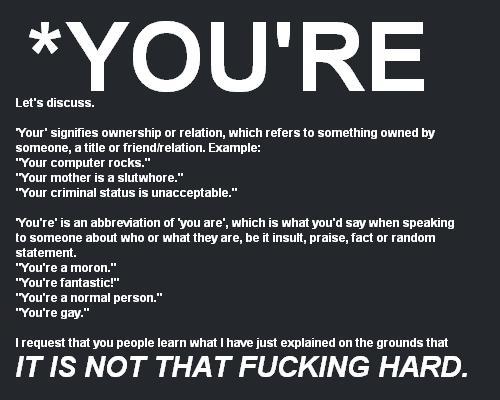 Appealing to unnamed sources adds nothing to your statements.
I named David Hume and Professor Millican in the very post you're replying to now. I'll cite others if and when they become relevant.
apart from the fact that everything your scripture says is at least unsupported absurdity if not demonstrable falsity too, your scripture doesn't support you in this or anything else. If it did, you'd at least be able to cite that. But you can't.

There again, arbitrary conjecture founded by your philosophical baggage. My epistemology is revelational, as I've stated previously.
Once again, I repeat, you're relying on subjective impressions of things your scripture doesn't actually say anywhere.
Words like absurdity assumes a violation of absolute laws of thought by which we ought to reason. How do account for the existence of such absolute laws, especially on the basis of your illogical justification for your capacity to reason rationally?
Once again, I repeat, the laws of logic, much like the laws of nature are determined by observation. There is nothing irrational about one's ability to reason rationally, unless they pretend that it's really their magic imaginary friend doing the reasoning for them. That is irrational by definition, and so are you.
Nor could Sye ten Bruggencate or Isaac Newton, who both drew opposite conclusions which they both said were based on the same scripture. In the video linked above, you agreed that at least one of them had to be wrong, which is a damning admission, although I'm sure you don't realize that yet.

Well, you actually interupted me before I could elaborate on my response (surprise surprise). People come to differing conclusions on scripture all the time; this says something about people. To use Syes analogy, if your radio is picking up interference you call to complain to the radio station, because you know the problem is with your radio. It's the same with scripture or any book. There's a wrong way and a right way to read the Bible, it's called hermeneutics. I've mentioned the word hermeneutics and exegesis a few times in our discussion, but you just sorta glazed over the terms. Hermeneutics is the art and science of biblical interpretation. Read up on it sometime.
I obviously already have read up on that. I didn't "glaze over" anything. I addressed the failure in your hermaneutics in the very beginning, before you even brought it up, yet you said I was "off topic".
ALL people have enough revelation from God to their condemnation.
Obviously not, since an irreligious or non-theistic position is the 3rd largest demographic with respect to religion.
The very term "revelation" refers an unsupported assumption asserted without any possible justification. So you're lying again. Or should I say, still?
People like Sye and myself are only different from you because by God's grace
That, and your mutual lack of cognizance or competence.
He removed our hearts of stone and gave us hearts of flesh. The Holy Spirit dwells within us and illuminates the scripture for us.
There is no such thing as a holy spirit, and you never had hearts of stone, but you apparently do have brains of mush.
Do you remember what I said about asserting empty unsupported and indefensible speculation as though it were factual?

My position is proven by virtue of the impossibility of the contrary. Your persuasion isn't necessary for the validity of my argument. You don't, nor can you comprehend this simple fact apart from God allowing you to.
You're the one proposing all the impossibilities here. Your position is proven by nothing whatsoever, as you have neither logic nor evidence nor even philosophy to help you. Just remember that an unsupported assertion has no more validity than a claim that has already been proven false.
In regards to lying, if it is the case that I am; what's wrong with that on your worldview? What moral obligation does one meat machine have to another, and from where does this obligation come?
Many times believers have argued that they should be allowed to lie and what's wrong with lying if it is in defense of what they believe. And they often claim moral superiority while demonstrating that they lack even the minimal moral humanity to be a humanist.
The obligation may be too difficult for you to comprehend, given all you've said so far, but in short it is party that having evolved as a social species means that there has been significant selective pressures insuring that we have a natural compassion for our family, friends, and fellows. Deviant aberrations still arise and are often supported by religion which stands against much of human morality.
Religion certainly stands against anything and everything we perceive as truth. And that's the other thing. Only accurate information has practical application. So the only value any information can have is however accurate you can show it to be, and if you can't show that it is accurate at all, then it has no value at all. So every postulation must be backed by evidence and every claim has to be verifiable. Arguments from authority are worthless, as Carl Sagan famously said. If it can't be indicated or vindicated verified or falsified, then it is meaningless and any attempt to call that "truth" is only a lie.
Lies are like violence in the sense that both are immorally repugnant and abusive and should only be employed as a last resort of desperate defense; never something to be glorified or even tolerated otherwise--as they both are in religion.
You should understand that it is dishonest to cite facts that are not facts.
You should understand that it is dishonest to claim "truths" that are either not evidently true or are evidently not true.
You should also understand that it is dishonest to say you know things you don't know. That the only time you can claim to know something is when you can demonstrate your accuracy and SHOW that you know what you say you do.

Seriously, why OUGHT I not be dishonest in light of your position?
Because of objective morality instead of imaginary authorities.
Since objective morality is obviously an alien concept for an apologist, then do you accept that a particular action or choice is moral or right if it somehow promotes happiness, well-being, or health, or if it somehow minimizes unnecessary harm or suffering or both? And that a particular action or choice is immoral or wrong if it somehow diminishes happiness, well-being, or health, or if it somehow causes unnecessary harm or suffering or both?
The problem with any of your claims is that you can't show them, therefore you can't know them. The principle of empirical verifiability is not empirically verifiable.
You're talking about yourself again. I CAN show that I know what I know. You're the one who can't defend anything you assert. You can't even distinguish your beliefs from the illusions of delusion, because that's what they are.
Hitchens never understood the nature of evidence and the role of worldviews in relation to evidence. The interpretation of evidence is subject to the presuppositions you take to it. As stated previously, evidence assumes truth, knowledge, and absolute laws of logic. None of which you can account for on the basis of your self refuting epistemology.
Obviously you're the one who doesn't understand ANYTHING that you're talking about.
Evidence is a body of objectively verifiable facts which are either positively indicative of, or exclusively concordant with one available position over any other. Your "worldview" is irrelevant, or at least it should be. Whatever "presuppositoins" you have is the error in your prejudicial speculation, subject to correction as the facts demand. You may pretend that you can ignore evidence in favor of your imaginary alternative, but you do so fallaciously, and you're still wrong about that. No one gets to ignore the truth no posit baseless lies and call them truth.
Ignoring evidence is dishonest.
Asserting baseless speculation as fact is dishonest.
Pretending to know what you don't know is dishonest.
That's why faith is the most dishonest position it is possible to have. The only way to be more dishonest is to act in a subset of faith. Creationism is more dishonest than mainstream theism, and presuppositionalism is even more dishonest than mere creationism.
Why is God in the image of an evolved ape?

Well if that's your view of what we are, then we're just animals and you can no issue with lying, poor reasoning, murder, rape, slavery, etc.
Wrong again. That we are animals, and more specifically apes is not my "view". It's a fact and I can prove it. I don't tolerate poor behavior in any animal, and the more intelligent the species, the less excuse it has to act like you do.
what you call universal logical constants include mathematics and the laws of nature, none of which are to be found in your scripture.

You most certainly don't know what you're talking about.
Alright then. Since you said you use scripture as your basis, then where does your scripture describe the laws of logic or math or nature or anything that is actually true for that matter?
The laws of logic are mathematics are not the same, though they are both abstract. The laws of nature are the name we give to the way which God upholds the universe.
Wrong. The laws of nature are the way we describe observations of certain consistencies or how things seem to work. The same can be said of the laws of logic.
We recognize them and label them, but like logic, we don't create them. But you can find a great deal of the laws of nature in scripture with a simple internet search.
I obviously know that too, as demonstrated by the laws of evolution that I mentioned to you in our live discussion.
The laws of logic are rooted in God's unchanging character and nature
You mean the nature and character that changed twice in the Old Testament and twice again in the New Testament?
and we know this because we have access to some of His thoughts in scripture
No, we don't. The reason the Bible is so laughably wrong about damn near everything is that it was written by ignorant and bigoted superstitious savages who obviously had no idea what they were talking about, ever.
and the universe itself is logically intelligible because it had it's origin in the logical mind of God.
Again, obviously not. The boiling chaos of the universe clearly wasn't the creation of your djinni-like imaginary friend, who was himself created by men imagining men made of magic.
God is logical, and we being made in His image also ought to strive to be logical.
If "logical" means according to the rules of logic or formal argument, then there is nothing logical about magic invisible man who is bigger than big and older than time and exceeds every dimension we can exaggerate.
Much of your scripture was written before the number zero was invented, and is consequently based on the Mesopotamian sexegessimal [base 60] numeric system. That's why all the ages in the Old Testament are exaggerated by multiples of either ten or twelve depending on translation.

And?
So scripture doesn't provide the basis of mathematics either, and in fact got much of that wrong because of the fallible humans who wrote it.
Each of the laws of nature were observations made by men,

True! But the observations are just that, observations. Men didn't create these laws.
Because the laws were not "created" at all.
and some of these had to be corrected,

Our understanding had to be corrected.
Exactly, regardless of anyone's presuppositions.
because not even one of them was ever decreed by your god in any scripture.

There are many such natural laws that we can find in scripture by implication. The Bible isn't a science text book. There is where hermeneutics comes in to play, but I'm under the impression that you're unaware of the term.
After our conversation, I am now convinced that I am more aware of what the Bible says and doesn't say than you are. Since you claimed to base your epistemology on scripture, then everything you know about nature (which obviously ain't much) must be there. So show me. Shall we start with the example of how striped sticks effect genetics?
Valid reasoning is the ability to come to valid conclusions.
Correct, and you don't, since none of your conclusions are either logically nor factually sound. Nor are they rational, since rational is defined as having the capacity to reason, of being amenable to reason and able to reasoned with. None of that applies to you.
My position is actually more intellectual than you care to recognize. Christianity isn't just a religious conviction, but a system of thought on matters of epistemology, metaphysics, and ethics. Your justification for your reasoning is subjective by default because it begs the question and is thus completely arbitrary.
Once again, I repeat, YOU'RE the one doing all the question begging. As I noted in my book.
"I would also say that all faith-based beliefs stem from the logical fallacy of a question begging, circular argument routing back to an assumed conclusion. This is true of all forms of apologetics, but especially presuppositionalism. Their whole position can be summarized with the circular assertion "I know because I know," and further summarized with "'cuz I said so." There really is no more justification of their position than that."
--Foundational Falsehoods of Creationism
Now I'll ask you this...

If naturalism is true, meaning that all causation between events is naturalistic; then on what basis do you presume that you have the capacity to freely choose the better between two propositions? Keep in mind that in light of naturalistic presuppositions, your thoughts are merely the necessary byproducts of matter moving through time in accordance to fixed laws of chemistry, biology, and physics.

As I told you before, I have no "naturalistic presuppositions". I was open to the idea of supernatural things when I was a child, and have since grown up to realize that they are both wholly unsupported and impossible. So that is not a presupposition.

Irrelevant. And I'll tell you why...

"If naturalism is true?"



Are you saying the natural world doesn't or might not exist?

Nope. I'm speaking of philosophical naturalism, the position which asserts that all that exist is the natural world and cause and effect relationships between events. Such as your thought processes.
Then not surprisingly you don't know shit about my thought processes. I'm a methodological naturalist, not a philosophical naturalist. I'd actually LIKE to believe that supernatural things were possible. Then I could embrace my old Jedi religion again. But if the supernatural really did exist, then Spock or Gandalf or Obiwan or one of the myriads of faith-healers out there would be able to demonstrate that. Even if we can't explain the supernatural, we'd still have reason to know it exists. But the fact is there is no truth to any of that. There evidently is no god, but there is plenty of evidence that absolutely every last one of his apologists are lying frauds.
Because I think we're both pretty certain the natural universe is real. But we don't have any reason to believe there is also a magical supernatural realm too. So what you really mean to say is "if supernaturalism is false..." Because naturalism is already true either way.

Nope. You misunderstood what I meant by naturalism evidently.
I understood what you wanted to say. You just don't know what you're talking about.
Having blind faith in the reliability of your sensory perceptions is arbitrary.
Let's see.
Faith


/fāTH/
"A firm belief for which there is no proof".



ar·bi·trar·y


/ˈärbəˌtrerē/
"based on random choice or personal whim, rather than any reason or system"
Hmm. So regardless of any personal whim, all we have is a system of evidence [proof] being constantly tested to confirm that whatever actions are based on perceive from our senses does in fact comport with our continued existence, and any attempt to ignore that quickly results in pain and death. But you want to project your own faults onto those who will not share them by pretending that I have faith too, and that I'm therefore just as bad as you. And you accused me of using the tu quoque fallacy? You believers sure are masters of irony.
You and Hume both are going to have the same philosophical issues in regards to cogent justification because the rejection of God is the common theme. Having consistency in experiences does nothing to justify anything. If it's even a remote possibility that reality as you know it could be illusory, then none of your claims about reality are valid, as all claims stand the chance of being wrong.
Once again, I have to repeat what I already told you in our live discussion. It is not possible that reality is an illusion--for all the reasons I have already explained.
However I must remind you of what I tell every apologist that your position is so weak that the only way you can be right is if reality is wrong. So you all immediately plead that everything we perceive is only an illusion. But even if that were true, your god wouldn't be real in that case either.
Knowledge is justified, true belief. You can't know something to be true if it could be false.
Why are you quoting me as if you said this first? In this conversation so far, you've made a LOT of empty assertions you can't possibly defend, but everything I've said is verifiably accurate. So where does that leave you?
In the words of Dr Peter Millican, professor of Philosophy at Oxford, "the rational thing to do is accept that we are part of nature and that this assumption is one that we simply cannot live without. So we should systematize what we learn about the world in conformity with our model of an assumption of consistently uniform laws of nature. Hume himself advocates that we must assume this," and "it gives a reliable basis for preferring science to superstition".

As smart as these guys were/are, they simply can't account for WHY anything must be assumed to begin with.
You say that immediately after the explanation was given of why we have to assume that reality is real, because we cannot function otherwise. Try it.
I know, you're already trying it. But if you're reading this at all, then you're assuming that I'm real in a reality that you'd rather deny.
The fear of the Lord is the beginning of wisdom and knowledge.
Obviously the opposite is true.
No matter how intelligent a person is, if they reject God they're reduced to absurdity.
EDIT: I misread this the first time. No matter how intelligent a person is, there is no intelligent defense for God. Every logical fallacy has been used as an argument for God and every argument for God is a logical fallacy.
Another thing Sye ten Bruggencate liked to say was, "how do you know the laws of physics won't change five seconds from now." But of course if we assume that the laws of physics WILL change, that would be irrational, as it is not based on or in accordance with reason, and it violates all experience on which our knowledge is based.

It's not assuming that they will change as the consistent Christian who stands on the authority of Scripture knows on the basis of Scripture that God upholds the universe by the power of His Word in a consistent fashion throughout time.
You don't know what you pretend to know. You only "believe" that, and even that is only make-believe. Scripture has no authority either. What you call "scripture" is but one tome of several works of man-made mythology for various religions, all claiming to be the absolute truth and the revealed word of the one true god, but they're really just the irrational ravings of ignorant primitives.
"While the earth remains, Seedtime and harvest, And cold and heat, And summer and winter, And day and night Shall not cease." (Genesis 8:22, NASB)

Based on Scripture alone, we have the solution for induction, because of what God has declared.

On your worldview however, you have no basis to presume that the future will reflect the past to any extent simply because you haven't experienced it yet. By asserting the future will always to some extent reflect the past because it always has, is a clear example of circular reasoning.
Asserting that the Bible is true because the Bible is true is a circular argument, and a fallaceous one because the Bible is so embarrassingly wrong about almost everything. The only things it got right are the verses that contradict everything else.
But science is only concerned with what supported by evidence and what is not supported, and whatever is not supported doesn't warrant serious consideration. Come back when you have something to show. Then we'll have something to talk about. Because we have evidence that the universe works this way, and we have evidence that nothing can change this facet or that for all things across the cosmos. So it is not a circular argument like your position still is.
Uniformitarianism is the position that rates and conditions remain the same throughout time. This is not only unprovable, but demonstrably not the case.
Then name your citation. I'll be happy to read about uniformitarianism was proven wrong. Who did it? And how?
Uniformity in nature and uniformitarianism are not the same thing.
I didn't say they were. Neither did Hume.
So of course I have to side with the pragmatist. Since Hume said we must inevitably and irresistibly assume uniformitarianism, and since it is impossible not to make this assumption and still function, then induction could be considered the only rational position by definition, especially since assuming anything else would be considered irrational.

Of course this begs the question. Remember, Hume had no solution for induction. Inevitably and irresistibly assuming something by necessity does not answer the problem.
Being inevitable and irrestible means that you've assumed it too, haven't you?
So it's not a circular position at all.

Yes it is, and I explained how.
No it isn't. No you didn't, but I did explain how it is NOT circular, and that it wouldn't matter even if it was.
The question isn't one of whether or not reality is real, or if our senses convey what's real. The question is which philosophical framework makes cogent sense of and offers justification for these presuppositions.
Well then you've failed again.
co·gent


/ˈkōjənt/
1. Reasonable and convincing; based on evidence.
2. Appealing to the intellect or powers of reasoning.
3. Forcefully persuasive; relevant, pertinent.
You'e failed all points across the board, haven't you!
You can't demonstrate your accuracy about anything you've said, while I and others have shown where you're definitley wrong about almost all of it.
On the basis of my worldview, I know my senses are at least basically reliable because they're the result of an intelligent creative act by an omniscient and omnipotent God who has revealed Himself and His purposes to everyone.
What little you know, you know because it is verifiable, and not because of anything you canNOT verify.
On your worldview, our senses may only be a byproduct of other functions which actually have survival value, and our senses are merely conveying illusory perceptions.
Regardless of any worldview, all evidence is that my senses are not and cannot be conveying illusory perceptions such as you want to pretend.
My argument is not that we are brains in a vat. My argument is that on your worldview, you can't know with epistemic certainty that you're not. Out of everything you claim to know, there could be something you don't know which can contradict the knowledge you think you have. Therefore you could be wrong about everything you claim to know, and if you could be wrong about everything you claim to know, you can't know anything. The only solution is to have revelation from God, who is omniscient.
Absolutely wrong. I tried to explain this to Sye too, but of course he was too stupid to get it. If you can't know anything unless you know everything, then you don't know anything. Because not only are you demonstrably wrong about most of what you've said today, but because you can't know anything/everything not even whether your own senses are lying to you, then you can't know what the scriptures say before you read them, and you can't know whether you know someone who knows everything either. Because you'd have to know everything yourself to even know that.
But of course I don't have to know the capital of Syria to know the capital of my own state, nor to know that I definitely know more than you do, at least on this topic, and likely lots more too.
But if reality is real, which it is by definition

That's an arbitrary thing to say. By definition, God is real. How do you like your reasoning now?
re·al·i·ty


rēˈalədē/Submit
noun
1.
the world or the state of things as they actually exist, as opposed to an idealistic or notional idea of them.
Reality is real by definition.
God


ɡäd/Submit
noun
1.
(in Christianity and other monotheistic religions) the creator and ruler of the universe and source of all moral authority; the supreme being.
synonyms: the Lord, the Almighty, the Creator, the Maker, the Godhead;
2.
(in certain other religions) a superhuman being or spirit worshiped as having power over nature or human fortunes; a deity.
"a moon god"
God is NOT real by definition. Just one more thing you're objectively wrong about.
then your god still doesn't exist, because it is based on the Bible, and the Bible is demonstrably wrong about practically everything back to front.

That's simply ignorant conjecture.
No, the things I can prove to be true are demonstrable facts, not conjecture.
For example, I'll give you another quote from my book.
Some Persians at that time said that the god Mithras had the stars sewn into the lining of his cloak, which he would drape over the crystalline firmament to bring on the night. But we know that night is not a veil to be spread over the missing firmament like a curtain (Psalms 104:2) or a tent. We also know that the stars are not made to stand in the span of this expanse (Isaiah 48:13) because they are not "high" in the firmament (Job 22:12); there is no firmament, and they are so far beyond our puny world that "height" is meaningless and inapplicable. They are much too far away to be blown out of place by any storm (2 Esdras 15:34–35) and they couldn't be taken down by anything at all.

We've also proven that the illusive heavenly firmament has no foundations either (2 Samuel 22:8), and neither does the earth (Job 38:4–6). There are no pillars holding Earth above the deep (1 Samuel 2:8) because there is no deep (Genesis 1:2). Outer space is not full of water!

We also now know what lies outside our gravitational field, and that proves that you can't have any passage of days and nights without a sun (Genesis 1:13–14) to measure them against an Earth that constantly moves (Psalm 104:5). We also know that the sun cannot be made to set at noon (Amos 8:9), and that neither the sun nor the moon can be stopped in the sky (Joshua 10:12–13). We also now know what is beyond our solar system, which means we know the stars can't fall from the sky (Matthew 24:29). Even if they did, we still couldn't stomp on them (Daniel 8:10) because they're each thousands to millions of miles around, which makes it a bit silly to imagine a whole group of them having conscious minds (Judges 5:20) and ganging up in combat with a mere human being.

We even know now what lies beyond our galaxy. And that proves that nothing or no one could ever "seal up the stars" (Job 9:7). We also know that the earth with its fictitious firmament didn't predate the "lights in the heavens" by any amount of time (Genesis 1:17–19) and that the stars weren't "set" specifically to light the earth, because the earth is not at the center, or the beginning (Genesis 1:1) of the universe in any respect. The way the Bible depicts Earth in relation to the rest of the universe is wrong, and has been known to be wrong for thousands of years.
Now, be sure to answer each my questions when you reply. I hate when apologists habitually duck and dodge every point or query that shows how vacuous your position really is.

If i missed anything, let me know. But if you do, please first provide the justification for your capacity to do so without begging the question.
Yeah, you missed pretty much everything. You didn't adequately answer any of my questions and you ignored every time I explained to you how to verify the truth of any claim in the reality we both live in and can't deny--much as you would like to.
In your reply, don't say anything you can't show to be correct. Because if you refuse to be reasoned with no matter how wrong you obviously are, then I'm done with you. I'll offer all the patience necessary to someone who is sincere, but you've already admitted that you're not. So why waste another moment trying to help you?